Sometimes with all these dratic changes happening on the inside, I forget that the outside progress is a bit slower going...
I'll discover that I can do some new maneuver in one of my work out classes and suddenly think I look like a gymnast or ballerina!
It's like my brain sees my new-found ability to actually pull my leg up without my knee bent in front of myself to stretch something like this: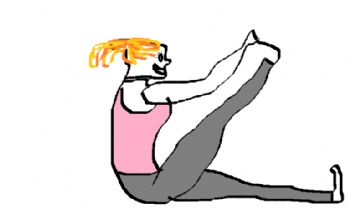 Only to discover that to the rest of the world it's really something slightly less graceful...
Usually there's really a lot of straining and a tongue sticking out for better concentration (you know it helps!) and various bumps and rolls and things in the way...
It's much like when I have too much to drink and suddenly, after wearing out both of my dance moves, I decide I am, in fact, capable of dancing like a sexy pop star...
I'll spare you the illustrations on that one. No one should have to see it and I'm sure you can picture it just fine...
But that's okay, the outside is bound to catch up eventually, right?