The original plan last night was to follow up Turbo Jam with leftover burrito fixins and some steamed veggies for dinner. But when I got out of Turbo my tumbly had a rumbly, and it wasn't for burritos (for a change)...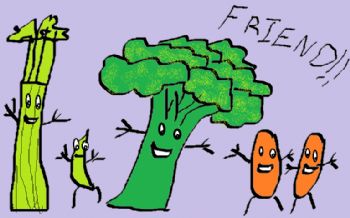 I wanted nothing so much as a wide variety of vegetables!!!
So I decided to make a stir fry. I made a stir fry last week and loved it, so I got all the same veggies. I was so looking forward to tons of broccoli cooked up with celery, carrots, snow peas, and cashews in a home-made sugar-free teryaki type sauce over some nice brown rice...
My only concern was that it was lacking in protein, and I've been trying out being a "weekday vegetarian" thanks to a cool video spark budy BETTERJULIA showed me...
So I decided to get some tofu! I mean, what could be better? It'll just absorb the flavor of the sauce, it's not very expensive, the store by my house carries the good brand of the lite tofu in extra firm that's great for stir fry....
Could I be any more clever?
When I got home and pulled out the block of tofu, it looked rather tiny sitting next to my big pile of produce, so I decided to go ahead and chop up the whole thing for the stir fry.
I don't know if I got magic tofu or what, but I swear that slimey brick had regenerative properties!! It seemed like no matter how many little cubes I cut, there was still so much brick...
My pile of tofu in the pan just kept expanding...
and expanding....
Pretty soon it covered the whole bottom of the pan!! And I'd alreayd heated up the veggie broth and garlic I was cooking it in, so there was no going back...
As I added more and more veggies to the pan it became clear... The tofu had completely taken over my veggie stir fry.
Oh well, it was still delicious, and now I have a lot more leftovers!